Semolina Halva, also known asIrmik Helvasi, is a traditional Turkish dessert that is incredibly easy to make. Toasted pine nuts and semolina come together in a pan and then they are combined with a sweet syrup. So yummy!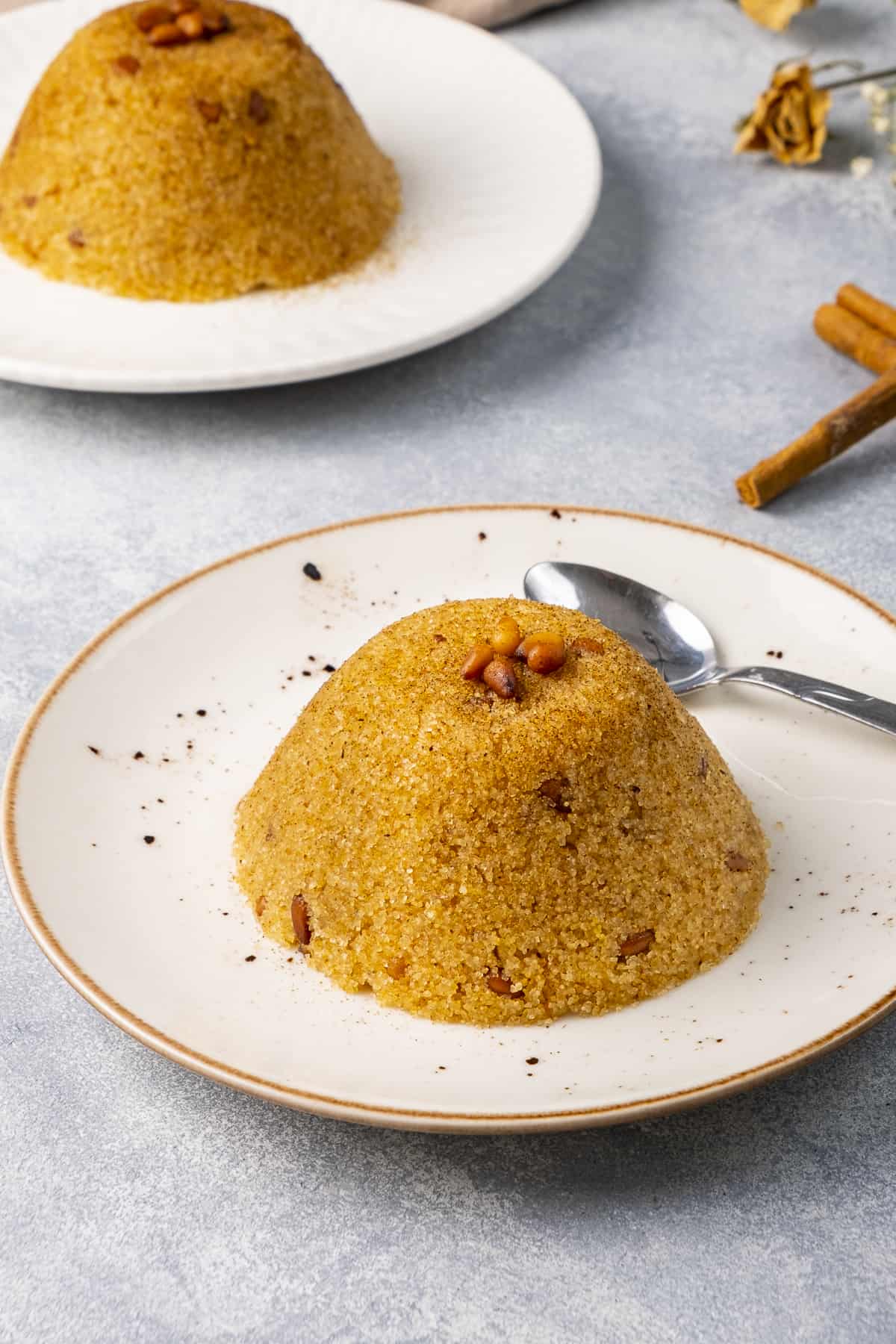 This semolina pudding is one of the easiestTurkish dessertsthat can be made with a few simple ingredients. Everyone in Turkey has a memory of irmik helvasi and their grandmas, who are known as the halva expert in the family. So people learn the recipe from them.
Jump to:
What Is Irmik Helvasi?
Irmik Helvası is a type of traditional halva recipe in Turkish cuisine. There are three different kinds you can find.
The first isflour halva (un helvasi). It uses plain flour instead of semolina and known as the oldest and cheapest dessert in Turkish culture. This is an easy recipe because you only need about 4 ingredients:Butter, flour, sugar and water.
The second issemolina halva or Irmik Helvasias we say in Turkish. The method of making both flour based helva and semolina based helva is the same. And the word helva is used to describe both desserts.
Turkish halva, also spelledhalwa or halvah, is a traditional dessert in Turkey. It is served on occasions such asbirths, religious holidays like Ramadan, and funerals.
Finally, there is another type of halva in Turkey:Tahini Halva (Tahin Helvasi), which ismade from sesame seed paste, tahini. This version is always bought from stores as it a kind of candy and not easy to make at home. But you can bake this store-bought version to turn it into a new dessert which has a creamier texture and is served warm.
About The Ingredients
Today's halva recipe with semolina is easy to make. You only need a few ingredients, but there are other variations you can check out below.
Semolina:Also known as semolina flour. It is a type of textured flour made from durum wheat. You get a few different textures, mainly fine and coarse. You can use either for this recipe. But semolina isn't replaceable when making irmik helvasi. It is a staple in Turkish dessert recipes and is also used to make desserts likesemolina cake revani,sekerpareandTurkish tulumba.
Oil:我们使用橄榄油,但是您可以使用蔬菜oil or sunflower oil too. Authentic semolina helva is made with butter instead of oil. So, you can do this as well. But for a lighter taste (which is what we prefer), we use olive oil.
Pine Nuts:Traditional Halva is made using pine nuts. It is toasted just like in ourMiddle Eastern rice recipe. You can also use walnuts or almonds when making helva.
Sugar:In the Turkish version of this dessert, we use only sugar and no other alternative. There is aGreek version of semolina halvacalled semolina pudding that replaces a bit of sugar with honey.
Water:There are two versions of semolina halva in Turkish cuisine.One is made with only water, and the other with a combination of water and milk in a one-to-one ratio.You can find how to make the milk version below. But personally, we prefer the one made with water only. It's a matter of preference.
Optional Add-Ins
Here are a couple of ingredients you can add to your semolina halva.
Lemon zest:Adding lemon zest is completelyoptional. But we do like the zesty fresh flavor it adds to the semolina.
Raisins or currants:Right before you add the water to the mixture, you can add a cup or so of raisins or currants. These will add a slight sweetness but predominantly some texture.
Cinnamon powder:Cinnamon powder is a topping used for semolina halva. You can use it in combination with other toppings.
Ground Pistachio:Finally, ground pistachios are also popular toppings. Again, if you use an alternative type of nut, you can use it in its ground form as a garnish as well.
How To Make It
Today, we will show you how to makethe authentic Turkish semolina halva dessert recipein less than 30 minutes. It is easy, but you should follow our in-depth steps and tricks to get it perfect. This semolina dessert ispacked with sweet, nutty flavors and rich, creamy textures.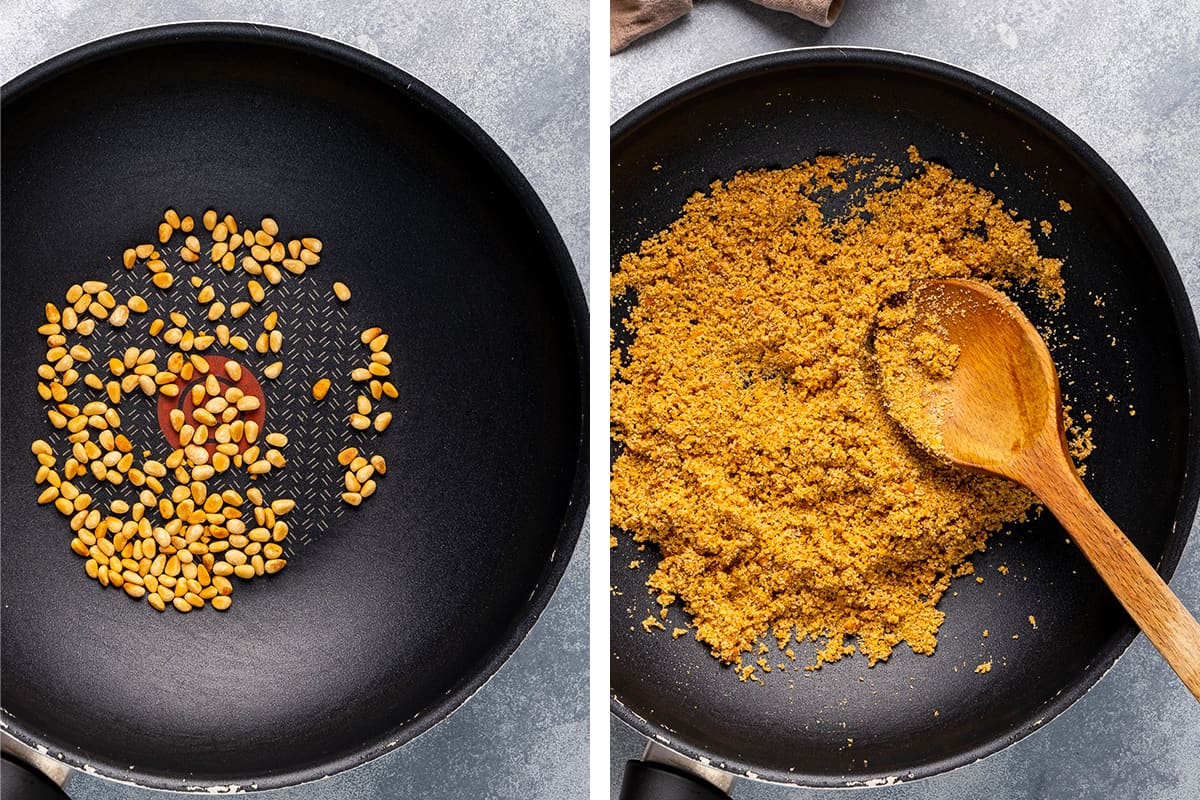 Toast the nuts.To start, heat a non-stick frying pan over medium heat. Add the pine nuts and allow them to toast for a couple of minutes. Brown spots will start developing on their surfaces.
Add the oil and semolina.(If you use butter instead of oil, add semolina when the butter melts). Give them a good stir so that they blend with the pine nuts. Then, cook over medium heat for about8 minutesor until the color of the semolina turns to golden brown. Make sure tostir the mixture constantlyas semolina burns easily.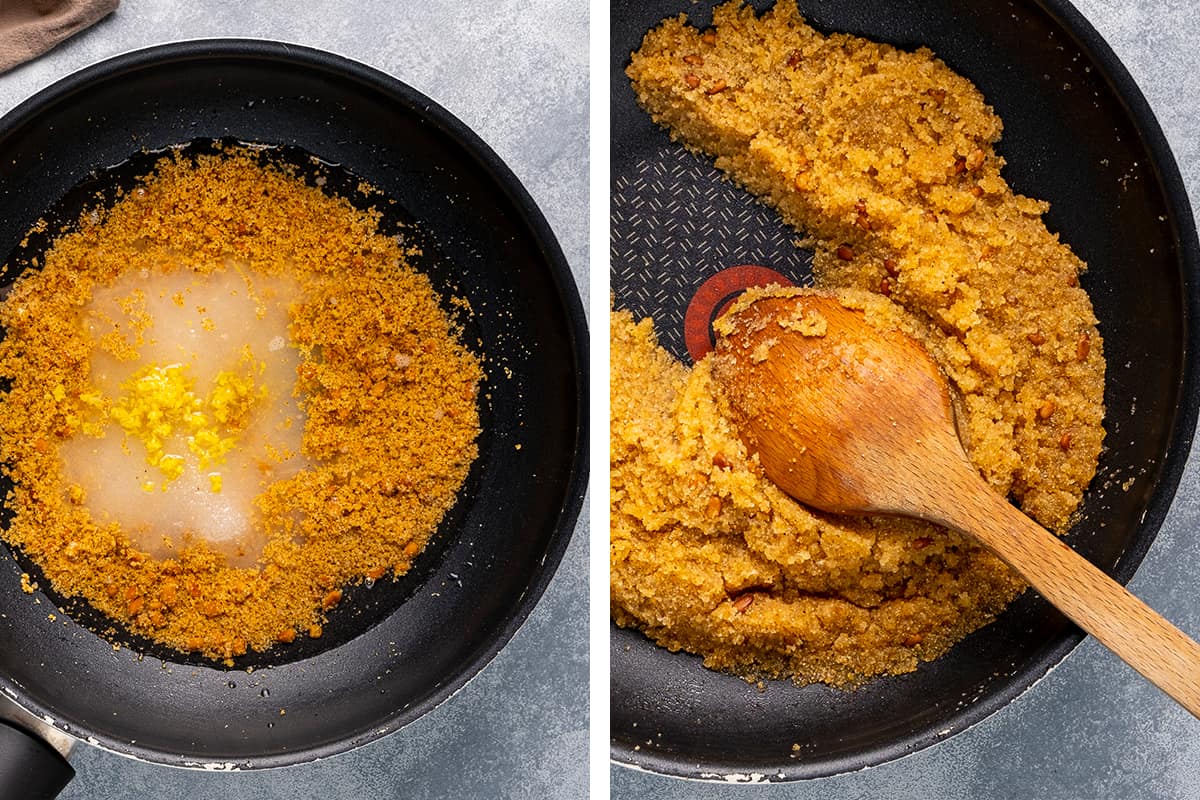 Add in lemon zest (if you are using), sugar and waterat the same time. Give it a stir and cook it covered until it boils.
Once the halva dessert mixture starts boiling,lower the heat as low as it can go. Leave the mixture to cook covereduntil all of the water has been absorbed. It will take roughly 3-4 minutes.
Rest and cool the halva.Once it has thickened, remove it from the heat and leave the halva to rest for 15 minutes.
You can serve this Turkish dessertcold, at room temperature or warm. So, cool it as you need to.
You can serve this semolina dessert in a bowl or turn it upside down onto a plate. Then, sprinkle over some ground cinnamon for garnish.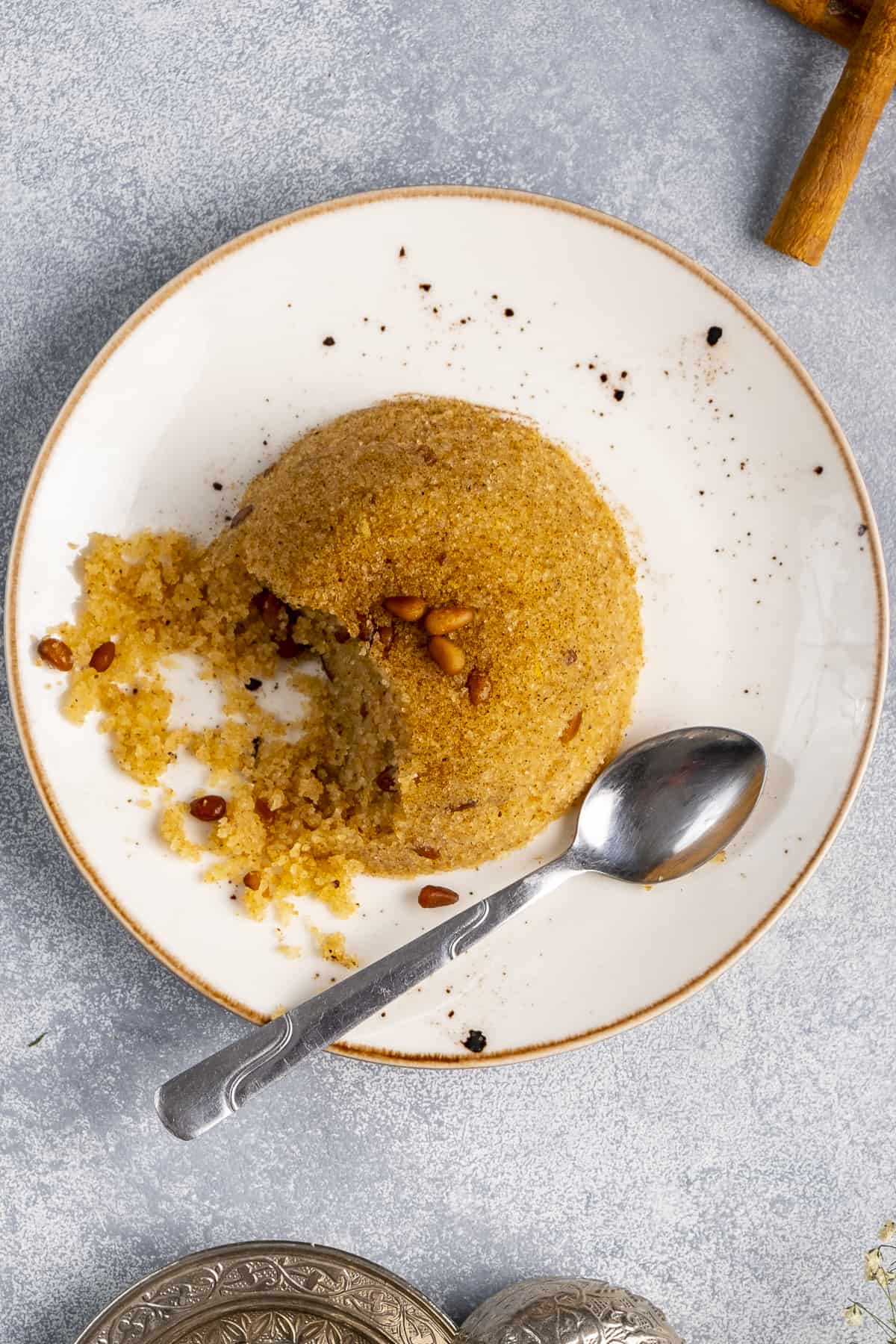 Semolina Halva With Milk
If you would like to make semolina helva with milk (Sütlü İrmik Helvası), you can follow the steps below.
Make your syrup by combining the milk, water, and sugar in a saucepan.Cook these ingredients until the sugar dissolves. Remove it from the heat and set it aside.
Cook the pine nuts and semolina as describedin our recipe.
Once the semolina is golden,lower the heat and gently pour in the milk syrup. Stir it in well.
Bring the halva base to a boil.Once it boils, leave it to cook over the lowest heat for about 3-4 minutes.
Proceed to cool and serve the Turkish semolina helva as the recipe states.
Halva With Cheese Addition
There is acheesy version of this helva recipethat is famous in Hatay (Antakya), a city in the south of Turkey. Just like in theTurkish kunefe recipe,an unsalted, easy-to melt cheese is added in the halvaand you have one of the most delicious desserts ever.
The traditional cheese used here is produced in the same city and it is definitely not easy to find abroad. However, you cansubstitute mozzarellafor it.
Soif you want to add cheese in your halva,½杯碎意大利干酪添加到锅中after the syrup is absorbed. Give it a stir and remove from the heat. Let it rest covered for 10-15 minutes and serve it warm.
How To Serve It
There arethree ways to servethis semolina dessert.
Serve itin small bowls.
Get spoonfuls of semolina helva and drop them on a plate.You can use two spoons; one to hold the halva and the other to slide it on the plate. They have a smooth shape this way.
Give it a dome shapeby filling it in a bowl and then turning it upside down on a plate.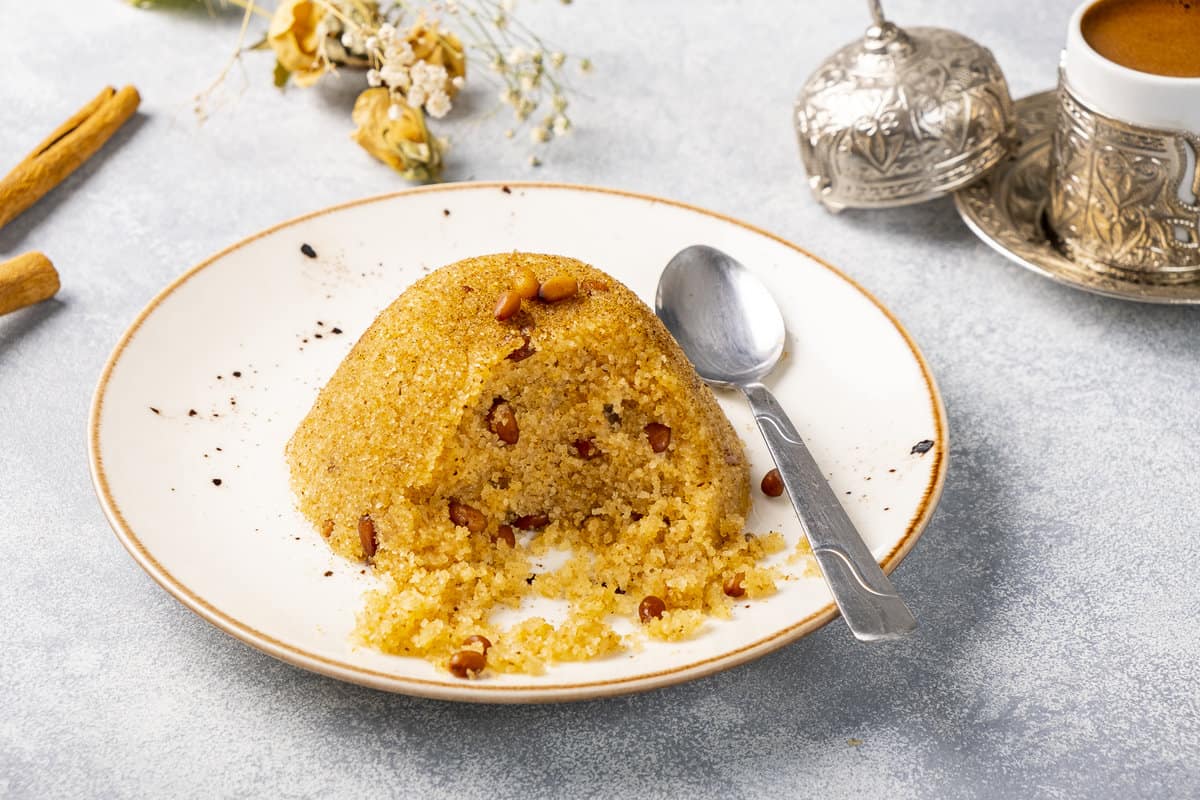 This semolina dessertcan be served cold, at room temperature, or warm.So, when cooling it, make sure you don't overdo it.
For garnish or accompaniment ideas, we highly recommend serving halva with a scoop of ice cream, especially withMaraş dondurması (Turkish ice cream). You can also serve it with Turkishkaymak(clotted cream).
And, of course, you should try it withhomemade Turkish coffeeor authenticTurkish tea!
How To Store It
You can store this semolina halvaat room temperature for one day. If you store it properlyinside the fridge, it will even last up to a week!
Keep itinside an airtight containerto help preserve its flavor and texture.
Do not freeze halva. It doesn't keep well, and won't be as good as when made fresh.
Tips
This halva dessert recipe should be constantly monitored.Do not walk away from the stove.Semolina can burn very quickly after it has been heated for a while. So,stir it constantly until it is goldenor a light shade of brown. Just follow our steps and cooking times in the recipe card below.
Pour the water into the saucepan very carefully.Because the semolina is hot, it may spill overand burn you.
Our halva recipe with semolinahas to sit for 15 minutes before you serve it. This step helps develop a better texture and flavor.
More Turkish Desserts
As always:如果你把这道菜,让我们知道你的瘦k by rating it and leaving a comment below. And post a pic on Instagram too—tag@give_recipeso we can see!
Sign upfor the FREEGiveRecipe Newsletterto get the new recipes into your inbox! And stay in touch with us onFacebook,Pinterest,YouTubeandInstagramfor all the latest updates.
Print
Recipe
Irmik Helvasi (Semolina Halva)
A wonderful light dessert with semolina and pine nuts. It is one of the easiest Turkish desserts that can be made with a few simple ingredients.
Author:manbetx2.0手机版
Prep Time:

3 minutes

Cook Time:

20 minutes

Total Time:

23 minutes

Yield:

6

1

x
Category:

Dessert

Method:

Cooking

Cuisine:

Turkish
3 tablespoons

pine nuts

½ cup light olive oil (or 110g / 1 stick butter)

1 cup semolina

1 teaspoon lemon zest, optional

1 cup sugar

2 cup water

½ teaspoon cinnamon, optional
Instructions
In a non-stick pan, toast the pine nuts over medium heat until you see brown spots on them.

Add in olive oil and semolina. Cook over medium heat, stirring constantly until it gets golden, for 8 minutes.

Add in lemon zest (if you are using), sugar and water. Give it a stir and cook covered until it boils.

Once it starts to boil, reduce the heat to the lowest and let it cook until all the water is absorbed. This might take 3-4 minutes.

Remove from the heat and let it rest for 15 minutes.

Share it into bowls, gently pressing on them and let them cool.

Serve it warm, at room temperature or cold.

Either serve it in bowls or turn the bowls upside down on a plate to give it a dome shape.Sprinkle cinnamon on it and serve.
Notes
If you are using butter instead of oil, let it melt in the pan before adding semolina.

You shouldn't leave the pan when cooking this helva. After reaching a certain temperature in the pan, semolina might burn very quickly. So you should keep an eye on it and cook stirring constantly. We want the semolina to get golden or very light brown. If you follow the steps with their time in the recipe card below, everything will be fine.

Be careful when pouring water into the pan once the semolina in it gets golden. As the pan is really hot, water might spill.

Don't serve it before letting the helva sit for 15 minutes. The texture will get better and the flavors will bend better.

Semolina Halva With Milk (Sütlü İrmik Helvası):
If you want to make your halva with milk, you need to make a syrup first. Combine milk, water and sugar in a saucepan. Cook over medium heat until the sugar dissolves. Remove from the heat.

Cook the pine nuts and semolina as described in the recipe. When the semolina gets golden, reduce the heat and pour this milky syrup into the pan. Give it a stir and bring it to a boil.

When it starts to boil, reduce the heat to the lowest and cook it covered until the syrup is absorbed, for 3-4 minutes. Remove from the heat and let it sit for 15 minutes before serving.
Nutrition
Serving Size:
Calories:

406

Sugar:

33.3 g

Sodium:

5.6 mg

Fat:

20.5 g

Carbohydrates:

54.3 g

Protein:

3.8 g

Cholesterol:

0 mg
Keywords:irmik helvasi, semolina halva